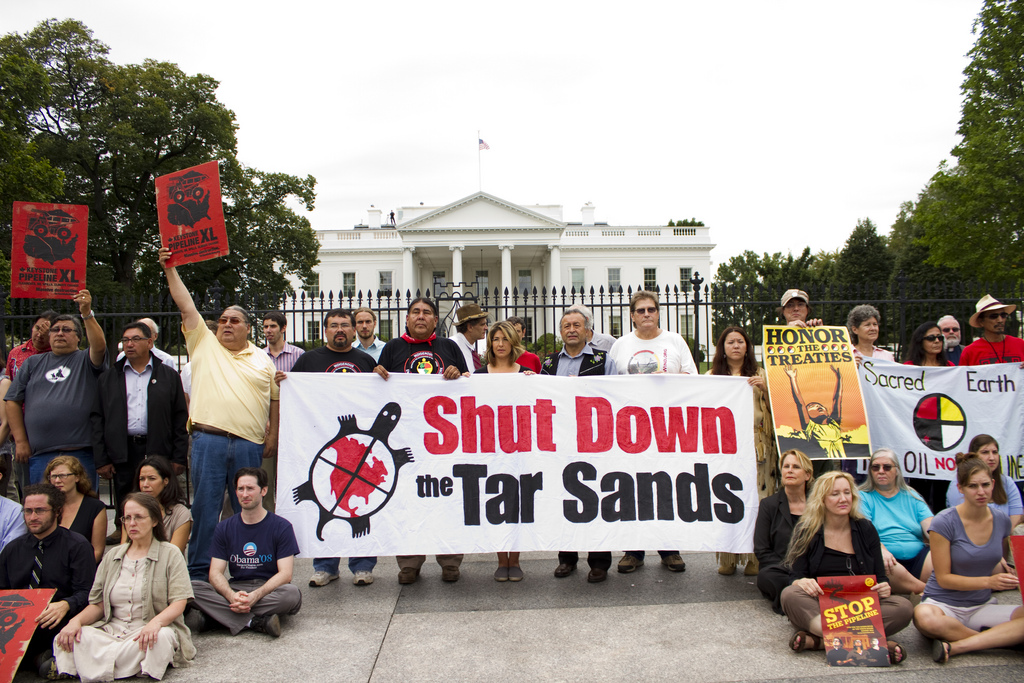 I'm writing this from the lawn in front of the White House. In front of me there's a sprawling rally underway, with speakers ranging from indigenous elders to the great Canadian writer Naomi Klein. In back of me, another 243 courageous people are being hauled away to jail -- it's the last day of Phase 1 of the tar sands campaign, and 1,252 North Americans have been arrested, the biggest civil disobedience action this century on this continent.
But we've been just as cheered by the help that has poured in from around the world -- today, activists in front of the White House held a banner with a huge number on it: 618,428. That's how many people around the world signed on to the "Stop the Tar Sands" mega-petition to President Obama. – Bill McKibben, September 2011
The world together with the oil companies are so greedy for oil, that they will do anything to get it. Including deep sea drilling, where oil spills can pollute the oceans and endanger wildlife. As recently has happened in the Gulf of Mexico (BP) and the North Sea (Shell). Including extracting oil from the tar sands in Northern Alberta, Canada, which requires a huge input of energy and creates unmanageable levels of pollution. To link this huge new source of energy with the market, a pipeline has been proposed from Alberta to the Gulf of Mexico – the Keystone XL pipeline.
The exploitation of the tar sands demonstrates the lack of commitment by the Canadian and US governments to addressing climate change at the expense of restricting oil supplies and corporate profit. If you want to find out more about why this is an environmental disaster, read "Tar Sands: Dirty Oil and the Future of a Continent" by Andrew Nikiforuk. The action in front of the White House was organsied by 350.org:
www.tarsandsaction.org
and http://act.350.org/sign/tar-sands
http://act.350.org/sign/tar-sands
Why 350? Scientists say that 350 parts per million CO2 in the atmosphere is the safe limit for humanity. 350.org was founded by author Bill McKibben, who wrote one of the first books on global warming for the general public.
In 2007, with a group of friends, Bill ran a campaign in 2007 called http://www.stepitup2007.org/ Step It Up which organized over 2,000 rallies at iconic places in all 50 Sates of the USA. These included such creative actions as skiers descending a melting glacier to divers hosting an underwater action. The call to action was to cut CO2 emissions by 80% by 2050.
http://stepitup2007.org
On 10/10/10 they hosted a Global Work Party, with over 7000 climate solutions projects in communities around the world. On 24th September 2011, they organised Moving Planet as an international day of action:
www.moving-planet.org
350.org is coordinated by an international team of organizers, including author Bill McKibben and young climate leaders from around the world.
www.350.org